HONDA HR-V occasion
used HONDA HR-V : 1 voiture on sale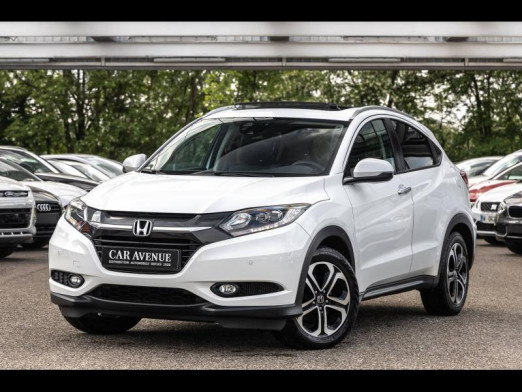 64,781 km

2015

Diesel

Manuelle
68200 MULHOUSE - FR
A loan commits you and must be repaid. Check your payment capabilities before you commit.
You cannot find the vehicle you were looking for ?
Make a personalised search request. We will contact you when it becomes available.
Contact us
A propos de la HONDA HR-V
Un SUV à grande allure Ce SUV sera à la hauteur de vos attentes, avec un habitacle très généreux. Avec ses 5 places, vous pourrez voyager entre amis ou en famille. Il se décline en 5 finitions, dans 8 coloris différents et en 3 versions, à vous de choisir la combinaison qui vous correspond ! Que vous vous baladiez en ville comme à la campagne, ses courbes fluides ne laisseront pas les passants indifférents. Équipé d'une multitude d'accessoires et des derniers équipements à la pointe de la technologie : d'un écran tactile à reconnaissance vocale, du Bluetooth, frein à main électrique, on peut dire que ce SUV ne manque de rien ! Les derniers équipements à la pointe de la technologie. Son gros point fort est son espace, que ce soit au niveau de l'assise ou de l'espace de rangement, il est l'un des premiers dans sa catégorie ! 448 litres de coffre pour une citadine ? Oui, et pouvant même aller jusqu'à 1473 litres les sièges rabattus ! Les sièges du deuxième rang peuvent aussi se remonter et servir de délimitation. Côté coffre vous pourrez laisser vos bagages et de l'autre côté vous aurez assez de place pour mettre un vélo.
Vous recherchez une HONDA HR-V occasion ?
Dans l'ensemble des concessions du réseau CAR Avenue, 1 voiture HONDA HR-V occasion sont vendues préparées et révisées par les techniciens de nos garages. Nos garages proposent également des garanties dont la durée et les conditions peuvent varier selon les établissements.
La sélection HONDA HR-V occasion de CAR Avenue dans votre ville